Reiki is a gentle and safe hands-on healing system for personal growth and development, health care and harmonization of physical and psychological processes. This system was developed by a Japanese spiritual adept named Mikao Usui (1865- 1926) and is one of the most effective alternative therapies of our time.
The Japanese word "Reiki" also refers to the spiritual (non-polar) form of life energy (Ki). "Non-polar" form of energy means that its behaviour cannot be described in terms of Yin and Yang, plus and minus, the qualities of a major chakra or of one of the spiritual elements.
The way Reiki heals is by promoting the natural processes of life. Reiki cannot do any direct harm; it affects the body in a way to make it more alive on all levels. Tension and relaxation find their natural balance in the right rhythm. Creativity, the ability to build relationships, vitality and the inner harmony will increase.
The Usui System of Natural Healing is a system of holistic healing and personal development work based on the fundamentals of Traditional Usui Reiki which awakens the ability to make Reiki, the spiritual life energy, available to oneself and to others at any time by laying on of hands.
Reiki Life Principles in Japanese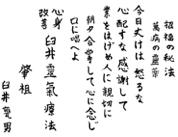 Calligraphy and Translation from Japanese by Dr. Mark Hosak, Shingon Reiki
Secret method to invite happiness Spiritual cure countless diseases of soul and spirit
On this very day!!! Do not be upset!
Do not worry! Be thankful!
Attend to your karma! Be kind to all living creatures!
Put your hands together every morning and evening and bring your spirit into here-and-now!
Recite them with the mouth!
Continuous improvement process for the mind and body with the Reiki healing method according to Usui
Primary Founder Mikao Usui
In summary, the meaning of the Usui Reiki Principles:
If today I am kind to all living creatures and am thankful for what I have, I need not to worry myself about tomorrow, and do not get upset over today for tomorrow. In this way I take care of good karma (actions).